Thanks to everyone for wishing me Happy birthday today. I have got so many comments, emails, texts and direct messages, not just from friends and family, but from the most loyal fans of my work at TheMetalDen.com. For that I am very thankful. Both my sites, www.themetalden.com and www.randyrocketcody.com are Hotter than Hell!
There is no doubt that my legendary Heavy Metal news site TMD continues to dominate pop culture, reaching the mainstream with so many massive news stories (and hoaxes) over the past five years alone that TMD has literally become a household name. My main goal has always been to reach as many people as possible and do it in a way that has never been done before.
The monthly FM Rock Radio appearances I have been doing the past few years on WQEE 99.1 in Atlanta, Georgia has helped push my message beyond the internet realm into the hard to penetrate arena of radio listeners in Corporate controlled America. To be such a powerful independent voice is beyond my wildest dreams. Thanks to my friend and host Ryan O Neal for all your support!
My next scheduled FM Rock Radio appearances are:
July 20th – discussing Chester Bennington Vigil
August 3rd – discussing The Black Dahlia Murder
I am also scheduled to do a new interview later this month with Nora Finch, who owns a site dedicated to helping develop the mental toughness of first responders. She contacted me and wanted to explore my acclaimed occult investigations, and my expertise in demonology, numerology plus black magick. Visit Nora's site on the web:
Whether it be hard hitting news, reviews, interviews, podcasts, reports, remixes, mashups or hoaxes, The Metal Den is far and away the #1 most widely published and most viewed rock n roll news webzine. I give all the glory to God and thank every person in the media who has published my journalism, whether it was a hoax or not, because you are the ones who keep making me and my sites famous.
My latest news story about Tommy Lee purportedly getting into a fight with Vince Neil has become an internet sensation and was featured on many different sites and YouTube, including Heavi channel, where it has amassed over 60,000 views. Along with The Pit site posting the story, the overall views are now past 1.5 million readers for this post. That is more than the number of people total that will attend the Stadium Tour in 2022.
With the recent announcement that PANTERA are going to do a reunion tour in 2023, there have been a lot of questions and angered responses about how this is exactly going to honor the fallen Abbott brothers when they both absolutely hated lead singer Phil Anselmo and are most likely rolling over in their graves right now. My epic 2015 interview with Anselmo is available for fans to reference, so y'all can understand the mindset of the man they call "The Kid."
This coming July 22nd marks fourteen years that I have been married to my beautiful wife Hope. I arrived in Texas after leaving Los Angeles back in 2007, and what an awesome woman she is. My wife has always been my #1 fan and supports my work no matter how crazy things can get at times. Having grown up knowing the Abbott brothers personally, it's totally wild that that she took this journey with me. After all, my site THE METAL DEN is dedicated to the one and only Dimebag Darrell.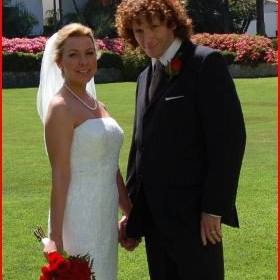 Thanks again for all your kind words today on my birthday and for making me feel so special.
Horns UP,
Randy "Rocket" Cody