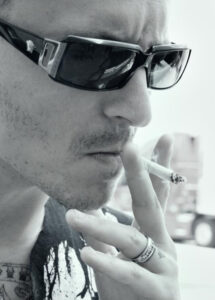 After a long independent death investigation that I've conducted on behalf of Chester Bennington, the late vocalist of LINKIN PARK band, I have determined that he did not commit suicide and foul play was definitely involved. I was the only person in the media who even stepped forward to request Mr. Bennington's autopsy report, and it took over 130 days for it to finally be released. The L.A. coroner's office blamed the long delay on a false positive read test result in the lab that would have indicated MDMA consumption by the singer at the time of his death.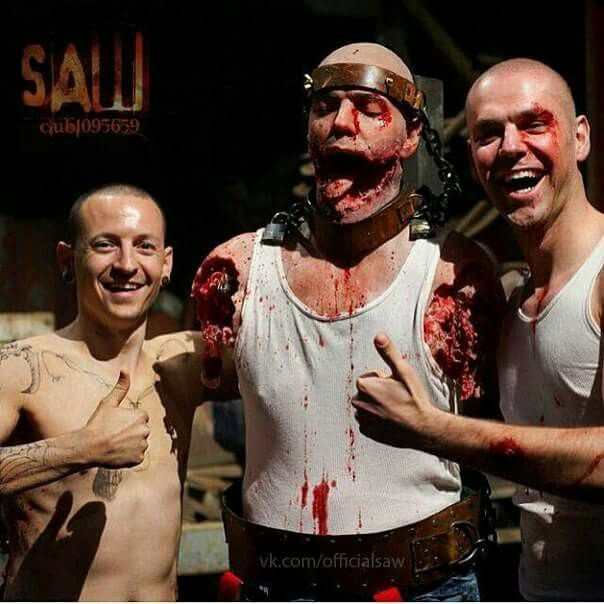 Two months before Chester was found hanging from a door in his home, his good friend, Chris Cornell , finished singing at a sold out SOUNDGARDEN concert in Detroit and then supposedly hung himself with a massive head wound, 9 broken ribs, and blood spatter all over the walls.
In my past reporting, I established that Chris' body temp was cold when he was found and that it would have taken a minimum of 2 hours in the 70 degree temp at that time of the year to cool down completely to the touch all over his body. That is a forensic fact. So if Chris was pronounced dead at 1:30 AM on May 18, 2017, then that means he died immediately after he arrived back to his hotel, placing the official time of death somewhere between 11PM and 11:30PM on May 17th… at the exact time he was said to be setting up his Apple TV to watch, with the help of his bodyguard, Martin Kirsten.
The million dollar question is if Chris did not sustain the rib fractures due to CPR, then how did these serious injuries happen? And why was there blood spatter found on the walls? And how exactly did Chris sustain the bloody head wound?
We all know that it's hard to breathe and even speak with a broken rib or two, right? Although Chris seemed a bit 'out of it' at times, the rock idol looked to be singing at his usual peak during his last concert.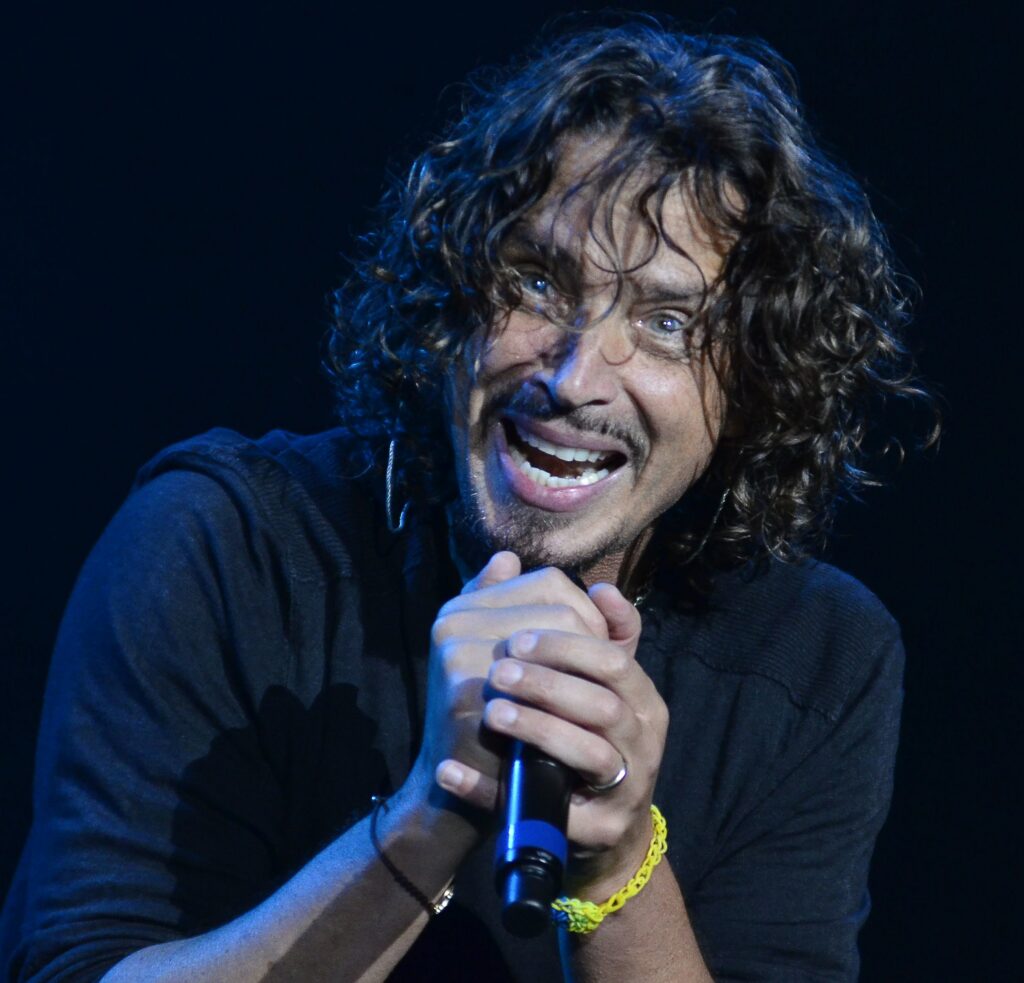 We now know based on Vicky Cornell's latest interview with the Detroit News in late 2018 that Chris indeed suffered a bloody 'head wound' some point before his final gig started. And then he ends up with 9 rib breaks after he walks off the stage for the last time. I confirmed with American Heart Association in Dallas, Texas, that Harvey Levin of TMZ was incorrect when stating "9 ribs fractures is the median when CPR is performed." The real stat is only an average of 2-3 rib breaks for someone that's only aged in their early fifties and still in good physical shape like Chris.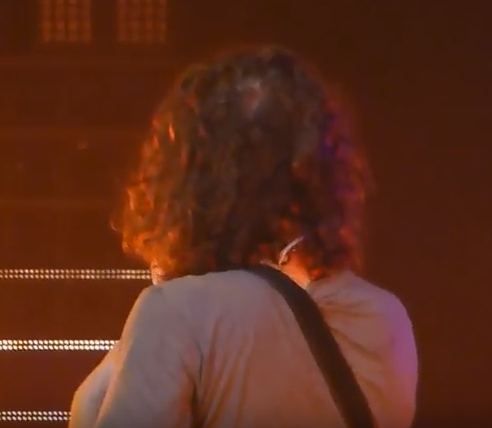 I also provided an audio recording that documents the moment in which the emergency medic is working on Mr. Cornell's body trying to resuscitate him when he notes the signs of "possible strangulation"… "head wound to back of head"… and that the body is "cold to the touch all over." He makes the DOA call to dispatch without even performing CPR himself at 1:30AM. So we know that the bodyguard Martin Kirsten could not have done CPR on Chris either, because the medic states they were the ones who pulled the 'red cord' from around Chris' neck so they could properly open the airway and begin the emergency life saving action. In the end, once they realized that Mr. Cornell was no longer alive, the brutal truth is that the first medic (a woman) stopped CPR. When the 2nd medic questioned Martin Kirsten, the very first piece of info that this purportedly highly professional bodyguard to the stars fed to them was "Chris suffered from depression."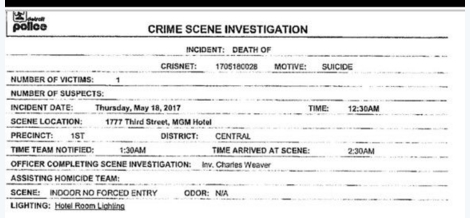 There's only one problem with that. It was Martin Kirsten who was the last person to see Chris alive, and his alibi claiming he kicked in the door to save Chris appears to have been done so he could make the 'suicide' narrative stick. According to a crime scene report taken at the incident there was no sign of forced entry... and based off the photo evidence that Detroit PD put out there simply is not enough damage done to the door if it was really kicked in with force by the bodyguard. A reputable locksmith expert told me on the phone that generally the only way to get a "latched closed" hotel room door open from outside is to use the police 'breaching and mini-ram tool' and that leaves extensive damage to the door and door frame, including the deadbolt.
I did, however, learn from this expert witness that the ONLY way to bypass the swing latch once fully engaged from inside the room is to utilize a tool that he is responsible for inventing called the "lock jockey". He confirmed with me that MGM Grand was NOT one of his customers… so they would not have this tool on hand to perform the bypass of the swing latch, understand?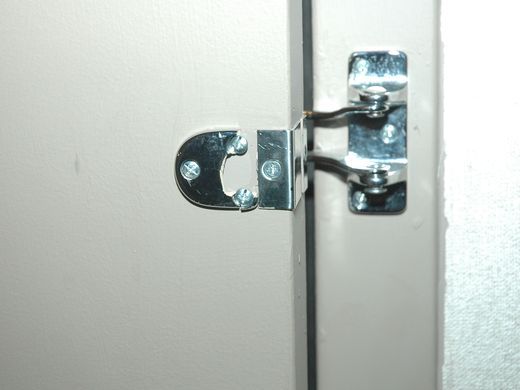 The Lock Jockey flip-latch bypass tool can and has been used by Law Enforcement Professionals in situations of check welfare calls, search warrants, arrest warrants, room overstays, drug labs in hotels and many more scenarios. In non-dynamic entry situations the Lock Jockey can be quickly and effectively deployed to minimize risk of damage to doors and their locking components. The tool does not disengage primary locking mechanisms. However, it quickly and effectively disengages the flip-latch in mere seconds. Generally Law Enforcement Professionals are able to obtain a secondary key card or key to the room they need to access. The trouble comes when, after swiping the key card or using the key to disengage the primary locking mechanism, the flip latch is found to be engaged. This is an obvious sign that the room is occupied. In the past, officers had no choice but to force the door open in order to gain entry into the room.
The ONLY possible way that "swing latch" is broken in room #1136 and part of it is found on the floor, as Detroit PD claimed, is to physically kick the latch mechanism off of the door, by doing an upward kick to break it off, standing inside of the room.
Therefore, there is no possible way that Martin Kirsten does that little damage to the door of room #1136 when from inside the room the swing latch was engaged. He is obviously not telling us the truth.

"Breaching Tools are designed exclusively for law enforcement and first responder teams. Usable alone or in two-person breaching teams, 5.11 Breaching Tools give you the power and precision to facilitate immediate entry into a building or vehicle while minimizing the risk of injury. Each breaching tool offers several methods of portal defeat for a wide range of entry types, from outward facing security doors to car-mounted safety glass. No door is too tough, and no window too thick – 5.11 Breaching Tools are crafted with high grade 4130 tubular steel shafts and steel composite heads for maximum penetration and control. When you need to get in fast, 5.11 Breaching Tools clear the way."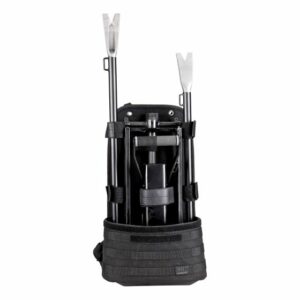 George Hunter and Detroit PD claim to have 'triple checked' the investigation for any signs of foul play.
That is a total lie. The bodyguard and Detroit PD fabricated an alibi wherein they claimed to have watched a closed circuit security camera video showing the bodyguard kicking in the door. We now know for a fact it's a total fabrication since I already proved via a high level locksmith's testimony that Detroit PD has without a doubt falsified their official report.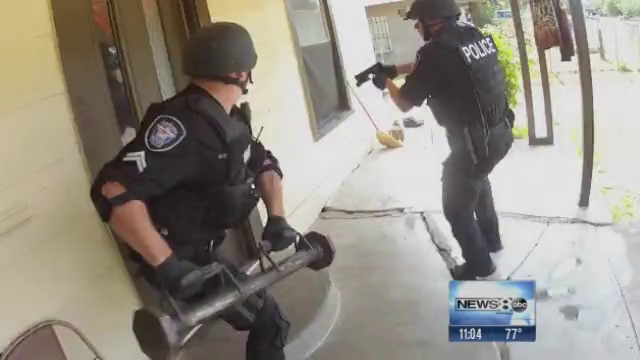 I believe that LAPD, TMZ, Detroit PD, both George Hunter and Gary Miles of the Detroit News are involved in a cover up of the truth and that is why the second scheduled interview I had with Detroit News got cancelled. All I wanted to do was offer new evidence connecting Chester's death to Chris Cornell's demise.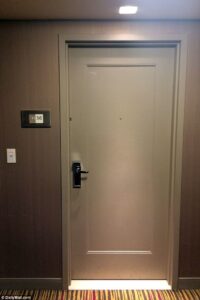 The police report on the "suicide" of Cornell and autopsy report is on the internet and Chris Cornell was found with blood running from his mouth: https://www.scribd.com/document/3535916 … from_embed
See excerpts from page 7. PRO (Martin Craig Kirsten) RECEIVED A CALL FROM VICTIM´S WIFE AT 12:15 AM ON 5/18/2017
(…)
WHO STATED SHE TALKED TO HER HUSBAND (VICTIM) AT 11:35 PM ON 5/17/2017 WHO STATED TO WIFE THAT HE WAS GROGGY AND JUST KEPT SAYING "I AM JUST TIRED" AND HUNG OP THE PHONE. VICTIM´S WIFE ASKED PRO TO ROOM AND CHECK ON VICTIM TO SEE IF HE IS ALLRIGHT BECAUSE HE DID NOT SOUND LIKE HE WAS OKAY. PRO WENT TO VICTIM´S ROOM AT 12:15 AM ON 5/18/2017
(…)
PRO KICKED IN DOOR WITH HIS FEET
(…)
LATCH HAD BEEN ENGAGED ON THIS DOOR (…) PRO KICKED IN BEDROOM DOOR AND FOUND VICTIM LAYING ON THE BATHROOM FLOOR WITH BLOOD RUNNING FROM HIS MOUTH AND A RED EXERCISE BAND AROUND VICTIM'S NECK. AT 12:56 AM, MGM MEDIC (…) STATED SHE CAME TO ROOM 1136 AND SHE STATED DOOR WAS OPEN AND SHE FOUND VICTIM LAYING ON BATHROOM FLOOR WITH RED EXERCISE BAND AROUND HIS NECK.
What matters the most is that the blood in the bathroom and on the door itself is very telling. Not only should it not be there in significant amount if any… but it's everywhere. It's on the door, the floor, running out of Chris' mouth, there is blood spatter.. it's a mess.
Maria Vulaggio of International Business Times learned from a practicing doctor of pathology at UCLA that blood is not supposed to ever be found in a large amount if at all in a suicide by hanging scene.
"It's very unlikely such large amount of blood found in a case of hanging," Dinesh Rao, MD, PhD, Assistant Professor, Pathology and Laboratory Medicine at UCLA, told International Business Times in an email."
Investigator Weaver collected DNA samples from underneath Martin Kirsten's and Chris Cornell's fingernails but never sent them to be tested at the lab!
So we cannot rule out that foul play between Chris Cornell and his bodyguard happened. To date, Detroit PD has not released the video of Martin Kirsten kicking in the door of room #1136.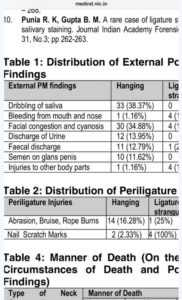 According to Table 1 (seen above), bleeding from mouth and nose happens in only 1% of the suicide hangings, but in 100% of the ligature strangulations (murder by strangulation): http://medind.nic.in/jal/t13/i1/jalt13i1p63.pdf
A lot of people get stuck focusing on Comet Ping Pong but I learned about the elite's trafficking children in shipping containers 2 years ago when I began to personally investigate the PizzaGate scandal. Keep in mind, the Clinton's were already closely involved with helping their pal Laura Silsby get a light sentence when she got busted trafficking 33 kids out of Haiti.
Hillary's close friend John Podesta, the man who helped her try and win the Presidency is closely tied to Chester Bennington, whether he is actually his sperm donor or not. I learned that via the SE4ALL global initiative that Mr. Podesta handpicked LINKIN PARK to brand the message with the masses via a carefully devised social media marketing campaign. The band agreed to push the SE4ALL message on their social media platforms.
"Sustainable Energy for All (SEforALL) is an International Organization working with leaders in government, the private sector and civil society to drive further, faster action toward achievement of Sustainable Development Goal 7, which calls for universal access to sustainable energy by 2030, and the Paris Climate Agreement, which calls for reducing greenhouse gas emissions to limit climate warming to below 2 degrees Celsius."
It was not until Chris Cornell stumbled upon damning information that verified the elite child trafficking was indeed real that both he and Chester's fates fell into the crosshairs of John Podesta, Hillary Clinton and the brute power of the evil Illuminati who helped make them huge stars in the first place.
I was contacted by an anonymous source about a "black book" that Mr. Cornell purportedly got his hands on during the pre-production phase for his planned documentary exposing the elite's human trafficking ring. The inner circle of convicted billionaire pedophile Jeffrey Epstein was exposed in this book, and it rocked the very foundation of the Pizzagate scandal. My journalism was called a HOAX but was never actually debunked. I believe that my investigating has unearthed the greatest cover up in world history, and it reaches all the way to her majesty the Queen of England, Putin in Russia, the Pope at the Vatican and yes, Donald Trump in the White House.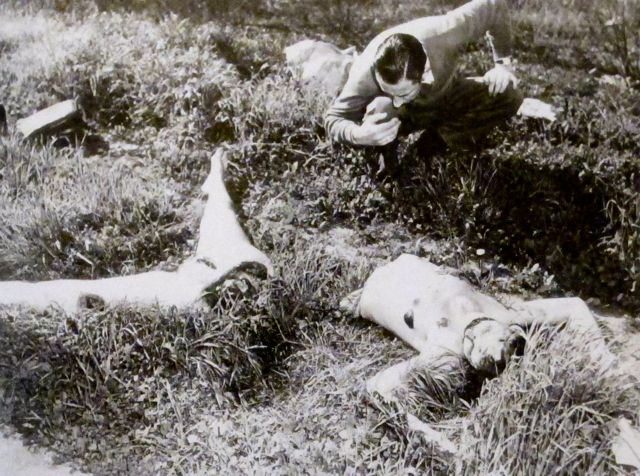 Oddly enough, another death investigation I am working on turned up another "black book" (the official file containing its contents is still not being released by police 72 years later) that looks to be another LAPD cover up. The case dates back to 1947 in Los Angeles. You might have heard of it. It's commonly referred to as the Black Dahlia murder. It's going to sound crazy… but I strongly believe that Chester's death and Elizabeth Short's are connected. It has everything to do with the dark mystical world of the occult… along with snatching little kids for profit and Satanic sacrifices.
Just like in the case of the Black Dahlia murder, where Los Angeles Herald & Express newspaper reporter Agness Underwood got pulled off the case by her superiors when she started to determine something truly sinister was going on at LAPD, I was silenced by the mainstream media on the Cornell/Bennington matter once I uncovered the reality of what was happening in Washington DC… and all around America.
According to the initial reporting by TMD:
Bennington's close friend and his wife had set up the Chris and Vicky Cornell Foundation for neglected children and also worked with a number of charities that worked with children rescued from child trafficking networks. During his charitable work, Mr. Cornell had discovered a "black book" of names for an Elite pedophile ring that was part of a global child abuse network. Sources close to Cornell revealed that he was planning on going public with the names shortly before he was found dead.
READ MORE: Chris Cornell was About to Expose an Elite Pedophile Ring Before He Died
Friends and family of Chester Bennington said they were in absolute "shock" over the rock star's apparent suicide and stressed that they believed he "was in a good place in his life". According to close friends of Mr. Bennington, Cornell had shared "troubling" information with Chester shortly before his death.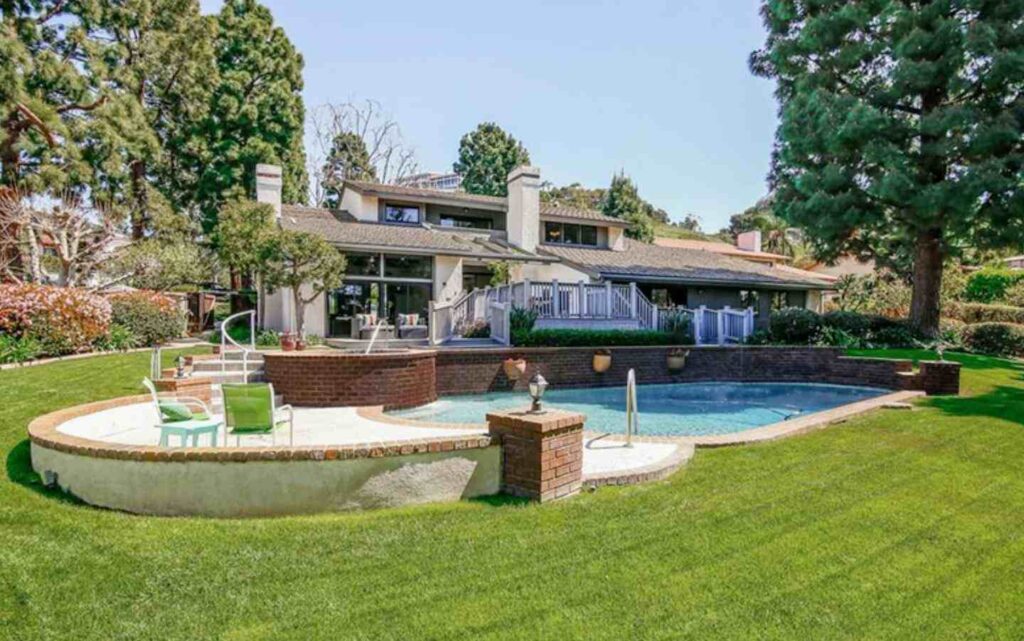 After news of his tragic passing emerged, friends said that while they never suspected he'd kill himself, Bennington was "never the same" after the death of his close friend Chris Cornell. Other notable celebs have even questioned whether or not Chris Cornell really did kill himself, including Howard Stern.
"He didn't kill himself, by the way, just if you wanna know," Stern said. "No way. No way a good looking guy like that, who can sing like this and play guitar is gonna kill himself. There's no way… impossible."
Howard Stern: There's No Way Chris Cornell Killed Himself https://t.co/I2xtFO531c #musicNnews #music pic.twitter.com/y9zu49Y0Ag

— ♥Produced Music♥ (@music_and__news) March 7, 2019
Some of Chester's close associates point out the obvious. "Chester and Chris were so close, and he was never the same after Chris's death," the friend told Radar. "He knew something about [his death] that really troubled him"
The friend of Bennington's also noted that while Cornell's passing had deeply affected Bennington, but that he was far from suicidal and was looking for a way to "shine a light" on the truth behind his friend's death. "Everyone thought he seemed to be at a good place in his life," the friend told Radar.
LINKIN PARK and Bill Clinton were working together via SRS recycling in Haiti, where it's said a lot of human trafficking business goes on covertly.
The SRS team partners with its clients to provide single-source recycling solutions for all types of commodities and materials. Apparently the operation employs desperate poor people of Haiti.
Digging deeper, the claim is SRS is a social business with a mission to create a lasting recycling industry in Haiti. However, it looks like there is something much more sinister going on behind the closed curtain. Is it possible Chester Bennington's own band mate, Mike Shinoda, knows more about Chester and Chris' deaths than he is letting on to everyone?
If you look closely the LINKIN PARK logo looks very similar to what is referred to as the pedophile symbol for "man boy love".
This year the U.S. Department of Justice has opened an inquiry into the handling of the case against high-profile investor and convicted pedophile Jeffrey Epstein, who counts President Donald Trump, Kevin Spacey and the Clinton's as friends.
Were Chester Bennington and Chris Cornell Murdered to Cover Up a Pedophile Ring? https://t.co/ks94SuT2CD

— snopes.com (@snopes) July 22, 2017