This coming May 18th will mark five years since legendary SOUNDGARDEN great Chris Cornell was found dead in his hotel room after performing with his band at a concert in Detroit Rock city. For nearly 5 years, I dedicated thousands of hours investigating his case, and I wrote over 200 #TruthForChris reports, exposing a massive amount of evidence that points to foul play. My journalism was featured all around the world, and I have done countless interviews (The Detroit News, FM Rock Radio) as well, continuing to educate the masses about the dark secrets of rock music, Hollywood and Washington DC like never before.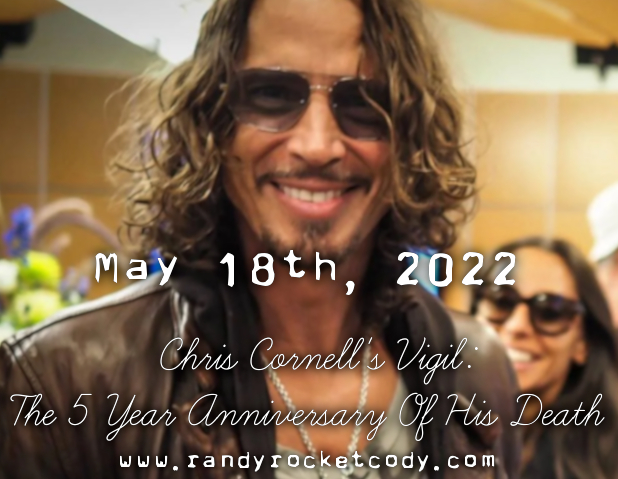 While it has been one of the greatest honors of my life, working to reveal the true story about what actually happened to Chris in his hotel room that night, to be able to share this great moment with his loyal fans is such a special thing that I know Chris would love.
On May 18th, please join me while I hold a special twenty-four-hour long vigil for Chris at my personal site: http://www.randyrocketcody.com
I plan on dropping a few surprises for his fans, which includes perhaps the most shocking #TruthForChris report ever posting on May 18th, which will expose Vicky Cornell's fraudulent and deceptive antics in a way that cannot be denied.
Make sure to pay for your subscription at my site in advance to get unlimited access on all posts leading up to the big day and of course the day itself!!
On behalf of Chris and all of the children that are still missing around the world, thanks for your support and continued belief in my mission to get justice.
RRC
#TruthForChris
#Pedogate
Sponsored by: www.themetalden.com
For the kids who keep asking me for more info regarding #TruthForChris here is one of the first viral posts on my legendary reporting. Read it and if you have a question about anything, just ask! https://t.co/WxL6AhNsO5 @EndOfCentury @UrMidnight @TMZ @BreitbartNews @cornelldeath

— Randy "Rocket" Cody (@randyrocketcody) April 30, 2022