The Tsunami Of Death Is Coming: Omicron Variant: B.1.1.529
"We are on the threshold of an emergency situation…" – Israel
Just when you thought the nightmare was almost over, we now have learned that the most terrifying variant of Covid-19 has been introduced to the world. This Covid variant is reportedly much more dangerous than Delta Variant. Variant B.1.1.529 was identified in November 2021 in Botswana and South Africa; one case had travelled to Hong Kong, one confirmed case was identified in Israel in a traveler returning from Malawi, along with two who returned from South Africa and one from Madagascar.
It is known to have dramatic genetic differences from other variants.
Omicron is 500% times more infectious than Delta Variant. This deadly variant could spread worldwide in the next few months. Belgium and Israel also have reported cases of Omicron, which is believed to be very vaccine resistant.
Has it shown up in America? While there is currently no official report of any known persons being infected in the USA with Omicron, the fear is that it will happen eventually and then that's when the real disaster begins. *UPDATE: Omicron has its first confirmed case in California as of 12/2/2021.
The UK is calling it the most mutating strain ever.
Public health officials are studying the new variant but its significance for the pandemic is not yet known. "Preliminary evidence suggests an increased risk of reinfection with this variant, as compared to other variants of concern," said the World Health Organization on Friday, Nov 26.
It's important to note that the US has now banned travelers from South Africa and seven nearby countries out of concern over the highly dangerous new variant.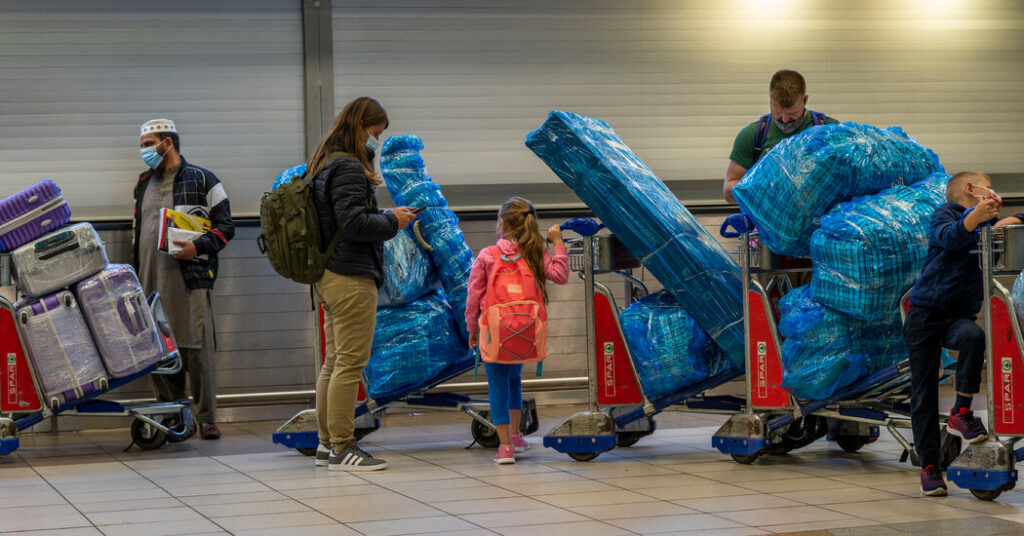 New York Globe reports more:
The world reacted with alarm on Friday to the highly mutated new coronavirus variant discovered in southern Africa, as the United States, the European Union and nations across the globe imposed new travel restrictions, financial markets swooned and visions of finally emerging from the pandemic started to dim.
Just two days after the world learned of the variant, the World Health Organization officially labeled it a "variant of concern," its most serious category — the first since the Delta variant, which emerged a year ago. The designation means that the variant has mutations that might make it more contagious or more virulent, or make vaccines and other preventive measures less effective — though none of those effects has yet been established.
After an emergency meeting, the W.H.O. warned in a statement that "preliminary evidence suggests an increased risk of reinfection with this variant" in people who have already had Covid-19. In keeping with the practice of naming variants for letters of the Greek alphabet, it dubbed the new one Omicron.
The W.H.O. and scientists on multiple continents cautioned that very little is known yet about the Omicron variant, or about whether the dangers it poses will justify the fears it is stoking. South African scientists announced its existence on Wednesday, and the number of cases definitively identified, all of them within the past three weeks, is still small, under 100.
But the swift global responses demonstrated that after nearly two years of facing accusations that they were too slow and timid in tackling the pandemic, many policymakers would rather risk overreacting to a new threat than underreacting.
Are you ready to take the vaccine? Will it even work against the diabolical variant called Omicron? At least a swift response of travel ban lays the groundwork to battle against this serious matter, and only time will tell if enough was done by the Biden administration to protect the American people.