This past Saturday, April 13th, during legendary rock act AEROSMITH's Las Vegas residency, fans witnessed lead singer Steven Tyler at one point suddenly suffer a strange case of 'transparent hologram fingers' while working his way through "Livin' On The Edge", the hit track that AEROSMITH has performed live for the past 25 years, ever since recording it for the 1993 studio album "Get A Grip."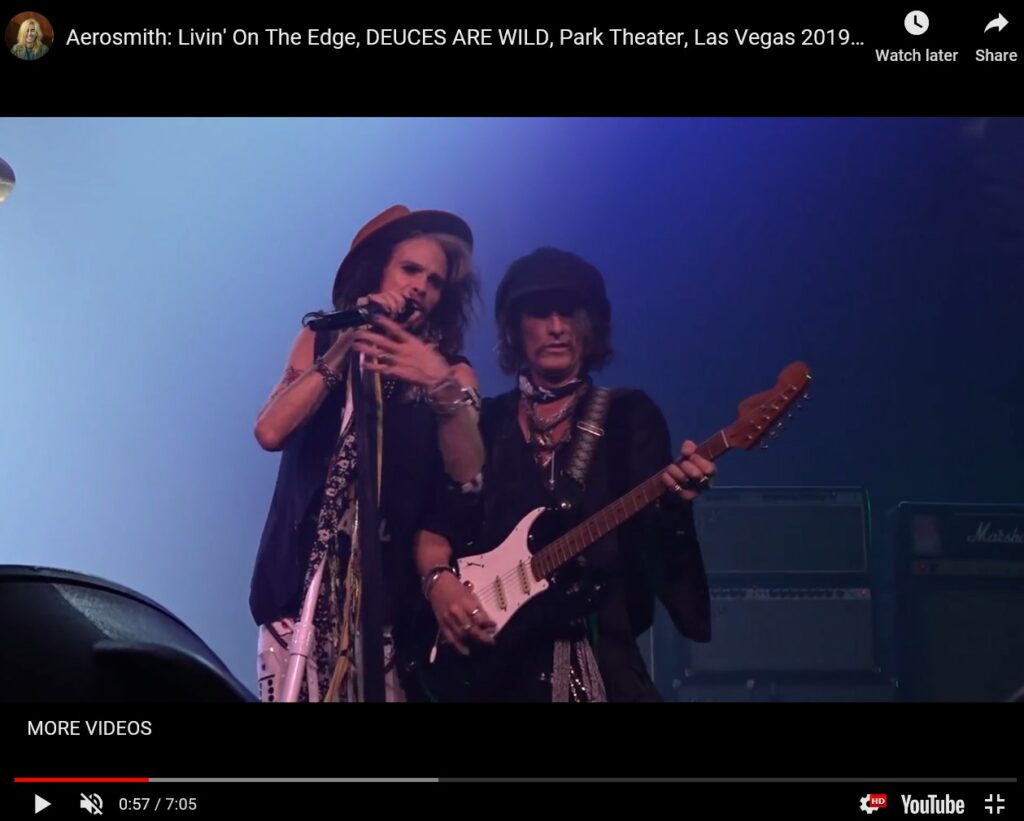 The moment in question happens at 0:57, and when the video was slowed down to .25 speed then paused at that very instant the above screen capture was produced. I have blown up a larger scale version of the rendering for you to review for yourself below.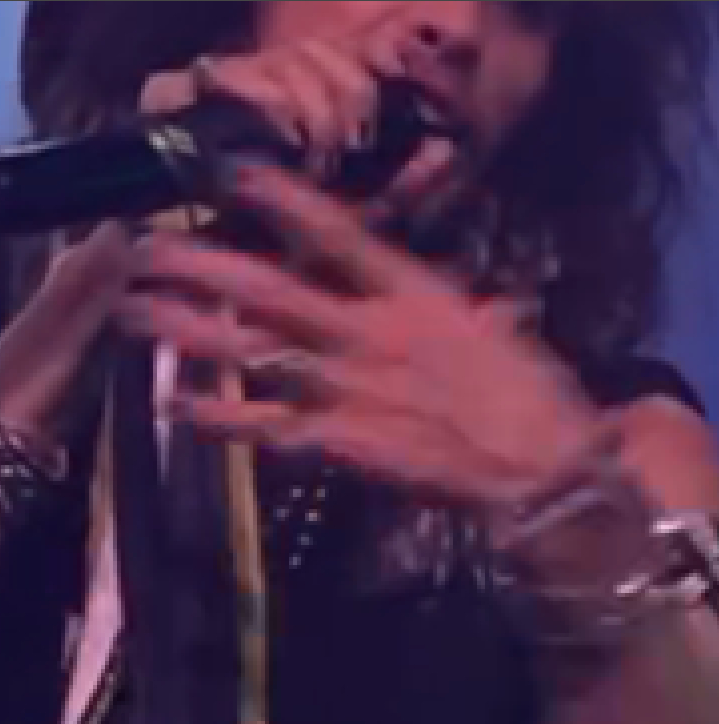 Holograms staged in live concert situations have unfortunately become popular in rock music in recent years, with late vocalist, Ronnie James Dio, among others, touring around with a fake version of themselves performing for the audience that pays for a thrilling "live performance."
What else could be the explanation for what you see?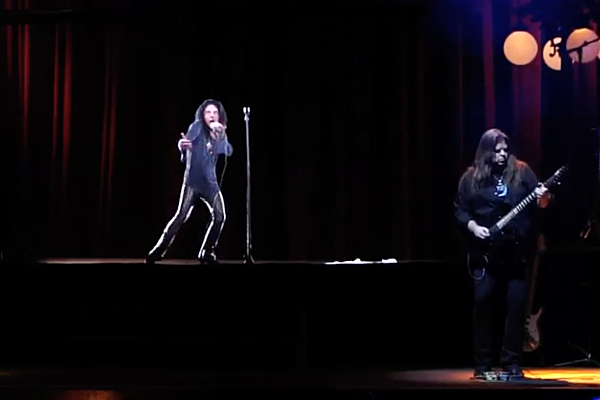 There is a wild conspiracy theory floating around right now that claims alien reptilian shapeshifters (comprised of the world's most elite celebs, politicians and rockers) are staging a covert takeover of humanity currently, but what the hell do those jack asses know about anything, right?
Seriously though, SMASHING PUMPKINS frontman, Billy Corgan, went on Howard Stern the other day and claimed he has actually seen living entities who were able to alter their form right before his eyes. Crazy, huh?
The Smashing Pumpkins: "I Saw A Person Shape-Shifted Into Non-Human Form" – Back in October of last year, William Patrick Corgan claimed he had seen a shapeshifter during an appearance on The Howard Stern Show. https://t.co/NNydZaWLAg @SmashingPumpkin pic.twitter.com/8U2N1LfbJ7

— Sasquatch Chronicles (@sasquatchchron) April 16, 2019
Yes, I am fully aware people will think this is yet another one of my brilliant hoax articles and that I used photoshop to create the freaky "ghost fingers" effect. Sure, I have reputation as a prankster but I am trying to be serious as a heart attack, which is what some fans thought guitarist Joe Perry looked like he was going to suffer at any moment, for the elderly rocker appeared totally "out of it" and well, ghostly.
Hell, if things get any worse for old Joe, the "hologram routine' might be the only way to go, you know?
AEROSMITH kicked off its "Deuces Are Wild" Las Vegas residency on April 6. The band is slated to play 30 more shows in Las Vegas dates before the end of 2019 — four in April, five in June, four in July, four in August, four in September, four in October, seven in November, and two in December.
Aerofanatic, one of the most popular AEROSMITH fan pages on Facebook, to share the clip on social media, along with the following comment: "Ummmm…. Joe….what in the fuck is that? I've seen and heard The Admiral thru good times and bad, and this has me genuinely worried."
2 years ago, a UK radio station called Planet Rock was stupid enough to report my 'Lars Retires HOAX' LIVE ON THE RADIO!! MILLIONS got duped well after my 'Gaga Gag' seen on Metro site including hundreds of thousands in Spain. LOL https://t.co/iX1edhswfO @MetroUK @PlanetRockRadio pic.twitter.com/k2zlt0I4A4

— Randy Rocket Cody (@rocketmetalden) April 17, 2019
In addition to the "Deuces Are Wild" shows, AEROSMITH is scheduled to make two festival appearances in July: July 14 at the Roxodus Music Fest in Edenvale, Canada; and July 19 at the Twin Cities Summer Jam in Shakopee, Minnesota.
The band also has multiple-night "Deuces Are Wild" engagements booked at MGM properties in National Harbor, Maryland; Atlantic City, New Jersey; and Springfield, Massachusetts.
Vocalist Steven Tyler posted a strange video after the dust settled on what is now being called "HologramGate." In it, the singer claims he will now be practicing in his car before the next gig so they don't have any more screw ups.

Steven Tyler Bizarre Car Video Revealed After Aerosmith Disaster
No word from the band's management whether or not AEROSMITH will keep using holograms on stage in the future, because they might want to invest in better equipment next time. As for the "Crazy Lizard People" story, the only thing cool about it is imagining Donald Trump's tongue getting longer than Gene Simmons' of KISS.
Report – INVASION OF THE BODY SNATCHERS: Trump's Alien Agenda ?https://t.co/mI435NG4tZ @rocketmetalden @DRUDGE_REPORT @ImperatorTruth @UrMidnight @EndOfCentury @TMZ #MAGA #FullAlienDisclosure #PizzaGate ??????? pic.twitter.com/gtbZpuKFOu

— Randy Rocket Cody (@rocketmetalden) April 16, 2019