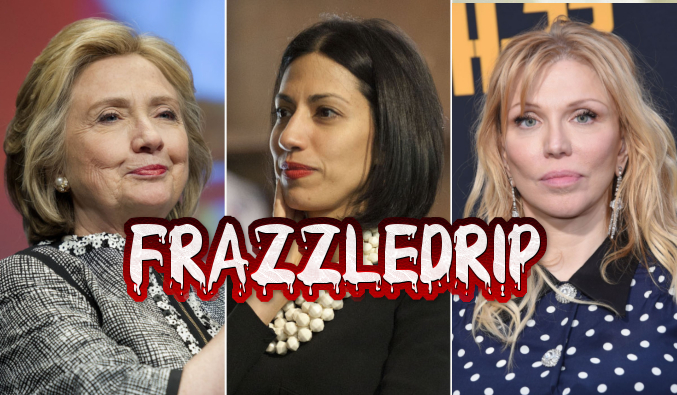 FRAZZLEDRIP: The Shocking Truth, Part 3
In the first two parts of this report, I laid the groundwork for implicating Courtney Love in the infamous #Frazzledrip scandal, a set of two videos which allegedly shows Hillary Clinton and her former aide Huma Abedin, Anthony Weiner's ex-wife, raping and mutilating a young girl. Purportedly it was all discovered from Weiner's laptop.
At the end of the so-called 2nd video, the girl bleeds out before Clinton and Abedin drink the blood and eat parts of the girl during a Satanic ritual sacrifice, which is now said to also include Courtney Love partaking in the act of human atrocity. Readers will recall from part 2 of this report that I came intro possession of a shocking screenshot which appears to be from one of the videos, that shows Love walking with the ten year old female murder victim. There are a lot of people who believe that it's all very real, while others tend to think it's an elaborate hoax.
What is the truth?
I recently obtained some extremely disturbing #Frazzledrip video footage (seen above) that is said to have been pulled off the dark web, and while it's a short clip, there is no doubt that the horrifying images and sounds will terrify even the most jaded. What the viewer will see is the moment after the little girl is killed by Hillary and Huma and the camera observes a blood soaked bathtub, after the child's face has been removed.
Randy Rocket Cody (@rocketmetalden) claims that this is an actual screenshot of Courtney Love with a ten year old child in the alleged snuff film #frazzledrip which features Hillary Clinton and Huma Abedin. https://t.co/uRjdt2W2tH pic.twitter.com/OmZ8I7F30y

— Afenegus Petar Vukotic (@HisMajesty89) February 11, 2021
When looking back at the facts of the Wikileaks dump that exposed the dark and demented world of John Podesta, Spirt Cooking, James Alefantis of Comet Ping Pong and the murderous ways of one time Presidential hopeful HRC, it's not too far of a stretch to picture this woman involved in such a bloodbath. The truth is that this woman is at the heart of the elite cult who is behind all of the missing kids around America. She and her husband, the former U.S. President, Bill Clinton, have visited Jeffrey Epstein's Orgy Island on numerous occasions, and isn't it odd timing how in court currently testimony is now being heard from a victim who said that Epstein and Ghislaine Maxwell raped her in front of her own child? Do you see the running theme that involves children with these rich and famous psychopaths?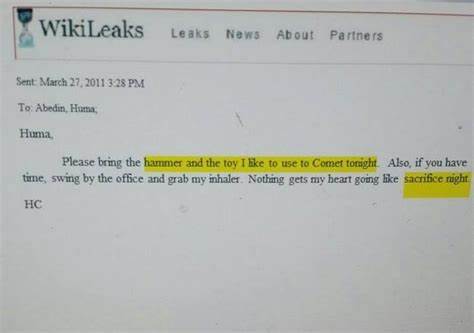 I also connected their good buddy John Podesta to Chester Bennington and LINKIN PARK band via SE4ALL global initiative. The band helped promote the political cause via their own social site platforms. It is my determination that Chester was murdered on Chris Cornell's birthday to send a message that he was killed due to what he knew about Chris getting assassinated by the powerful cult earlier that same year in 2017.
"Nothing gets my heart going like a sacrifice." – Hillary Clinton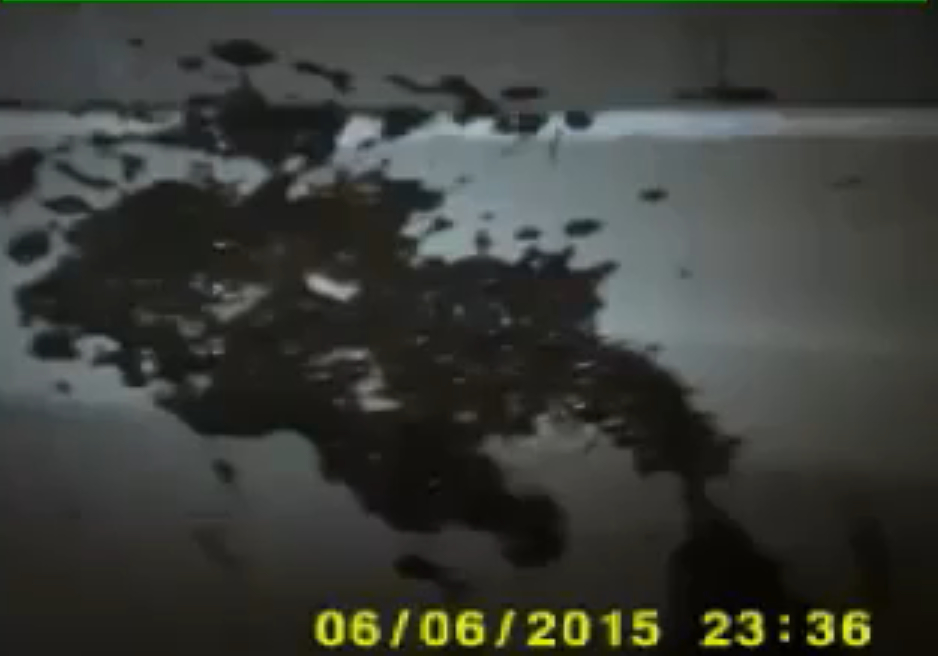 Jeffrey Epstein, Ghislaine Maxwell Raped Woman in Front of Her Child: Suit (msn.com)
In court documents filed March 22, the alleged victim—identified only as "Jane Doe"—claimed that in early 2008, Epstein and Maxwell repeatedly raped her in front of her son at a hotel in Naples, Florida.
Shockingly, the suit alleged that Epstein and Maxwell trafficked her to have sex with other men. The suit also alleged that the two forced Doe to "undergo a vaginal surgery to pass her off as a virgin to 'high profile' clients," according to the Miami Herald.
Hillary Clinton and Bill Clinton, along with Prince Andrew, are the core of Epstein's inner circle, according to his own "black book," including Courtney Love. This same "black book" is tied to the sacrifice murders of rock stars Chris Cornell and Chester Bennington, two cases I have been working on since around the middle of 2017. It all connects in a very sinister way and truly substantiates that #PizzaGateIsReal. My worldwide acclaimed reporting on these matters singlehandedly caused a viral sensation that, believe it or not, yielded billions of views on the internet from all over God's creation, for many top news agencies published my work. It's an honor to have attained such incredible stature as a journalist, doing this work – without reaping any monetary profit – all of these years, and in memory of Chris, Chester plus all of the missing kids.
Chester Bennington, LAPD and 2 Black Books https://t.co/1Ti2alakzV

— Titus Frost ?‍☠️ (@ImperatorTruth) March 15, 2019
Now reports have confirmed that Love and Prince Andrew are having an affair. It is my belief that this is why NYPD will not release the #Frazzledrip video evidence to the public, because apparently Love is seen all throughout most of the footage, as I learned from my source who goes deep down into the evil depths of the Dark Web, and I'm told that Love is partially seen lurking in the background as the acts of horror by Hillary and Huma are carried out.
And truckin' further north, The Grateful Dead. Classic tracks like "Friend of the Devil" and "Dark Star." LSD? CIA? FBI?

Also, just learned Courtney Love's dad was their tour manager. He now suggests she was directly responsible for Kurt's death. What a long strange trip. pic.twitter.com/6FcVw8Nsl6

— Theodore E. Baer | Gaslighters, try harder⌛️ (@dc20_aircraft) July 22, 2019
The Queen of England is said to be very angry about Prince Andrew's affair with Courtney Love, and I'm being told by my source that she will stop at nothing to keep the complete #Frazzledrip content from getting broadcast to the masses by the mainstream news in any way. If people find out that the Prince is indeed connected to Love and the pedophile cult with HRC, all Hell is going to break loose like never before all over earth. If this story gets too much bigger than the Love and Prince secret 'love affair' could capture the public's imagination and well, once you add #Frazzledrip into the mix, it's obvious what a nightmare for the Royal family this could all turn into.
Special Report – Frazzledrip: The Shocking Truth, part 1 https://t.co/peICsRrvmq @TheMetalDen @ImperatorTruth @EndOfCentury @ThisDrinkinLife @tspringer12 @MaryJaneWillig @psyminion #Pedogate #NoMoreBullshit pic.twitter.com/S1md7ZRLIx

— Randy Rocket Cody (@rocketmetalden) September 12, 2020
As the story goes, the viewer of the snuff film sees Hillary and Huma slicing off a prepubescent girls face and wearing it during part of an adrenochrome harvesting satanic ritual. It is not until the very end that all three women begin to feed on the flesh of the dead child together.
Report – The Truth About Pizzagate: Can You Handle It? (Pt. 3) https://t.co/KyV4YB9ioc @TheMetalDen @THR @tmz @PamelaRothrock @Jana_1977 @freeparadox @RebelPilled @jbugg72 @EndOfCentury @bobweisers @summermoon55 #NOMOREBULLSHIT pic.twitter.com/3Mf7SEZJSa

— Randy Rocket Cody (@rocketmetalden) April 7, 2018
I traced this all back to what I believe is the original article. It's was published by yournewswire (now Newspunch) here: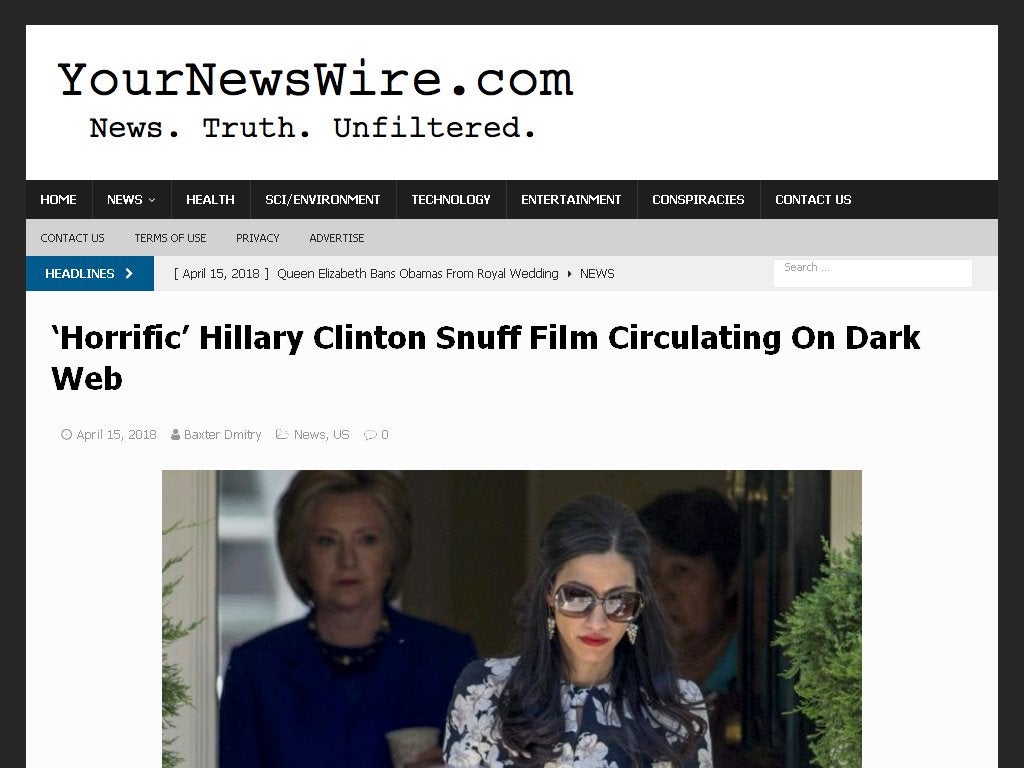 The journalist responsible for the report, Baxter Dmitry, states that some horrific video content codenamed Frazzledrip was circulating on the internet and goes on to give examples:
"In the video, they take a little girl and they fillet her face, according to reports, and then they take turns wearing the little girl's face like a mask. It is believed they were terrorizing the young girl, deliberately causing the child's body to release Adenochrome into her bloodstream before bleeding her out and drinking the blood during a Satanic ritual sacrifice."
Latest News: ANALYZING THE HOAX – Chester Bennington Was Murdered https://t.co/2EtdNmTrOS @TheMetalDen @linkinpark @yjon97 @RebelPilled @jbugg72 @Jana_1977 @EndOfCentury @SoylentRadio @summermoon55 @CielGris1987 @freeparadox #TruthForChester #PIZZAGATEISREAL pic.twitter.com/nK2qYYl0T6

— Randy Rocket Cody (@rocketmetalden) February 6, 2018